Our world is slowly starting to open and post-pandemic social anxiety seems to be on the rise.
The Covid-19 pandemic is still not over and protests, now spread worldwide, have an uncertain end in sight. Now after months of quarantine, If you do decide to go out, you'll see most places barely scattered with customers. Definitely not the kind of busy you might expect to see. with the exception of protests.
So what's happening out there? Were people not itching to get out?
Well, perhaps not as much as we thought. According to the APA (American Psychiatric Association), 48% of Americans are still anxious about the novel coronavirus. People have every right to be. It is still very much unknown territory. 
Now how do we deal with our social anxieties, post pandemic? Where do we go from here?
Well, first let's ask ourselves and I will explain….
What is Social Anxiety?
How does social anxiety develop?
What does Covid-19 have to do with it?
How do I help some one with social anxiety?
What is Social Anxiety? 
In general, anxiety refers to worry or fear of an anticipated problem. The mental health end of this involves persistent and intense fear, often resulting in avoidance of the situation altogether.
Social anxiety, then, is the fear of exposure to unfamiliar people or the potential of social scrutiny.
Social situations – such as public speaking, certain work environments, or meeting new people – are either endured with great distress or evaded entirely to eliminate negative feelings.
Though there are certainly times when every person may dread some public interaction, the distinguishing factor of social anxiety is an unrealistic, recurring fear. This fear prevents daily functioning and development, contributing to a decline in the individual's overall well-being and quality of life. Besides mental and physical health effects, relationships and personal goals are also interrupted by the disorder.
How does social anxiety develop? 
Though there is influence from genetic, neuro-biological, and personality factors on social anxiety, environmental risk factors also play a role in the development of mental illness. 
Conditioning of fear is an environmental mode that can either lead to or worsen feelings of anxiety. This behavior can be learned through two possible scenarios:
Classical Conditioning. A person learns to fear a neutral stimulus by associating it with an aversive one. This process may occur through direct interaction, vicariously witnessing the feared situation, or by verbal instructions (e.g."Dogs are dangerous!"). 
Operant Conditioning. A person gains relief by avoiding a certain feared situation. This process a negative reinforcement. It encourages avoidant behavior to continue due to the desire to obtain some reward or benefit (i.e. relief, lack of distress).
What does Covid-19 have to do with it?   
In the wake and aftermath of the outbreak, certainly there are several scenarios encouraging learned fear and avoidant behavior due to both unfamiliar people, ethnic differences, and social scrutiny. 
Fear of unfamiliar people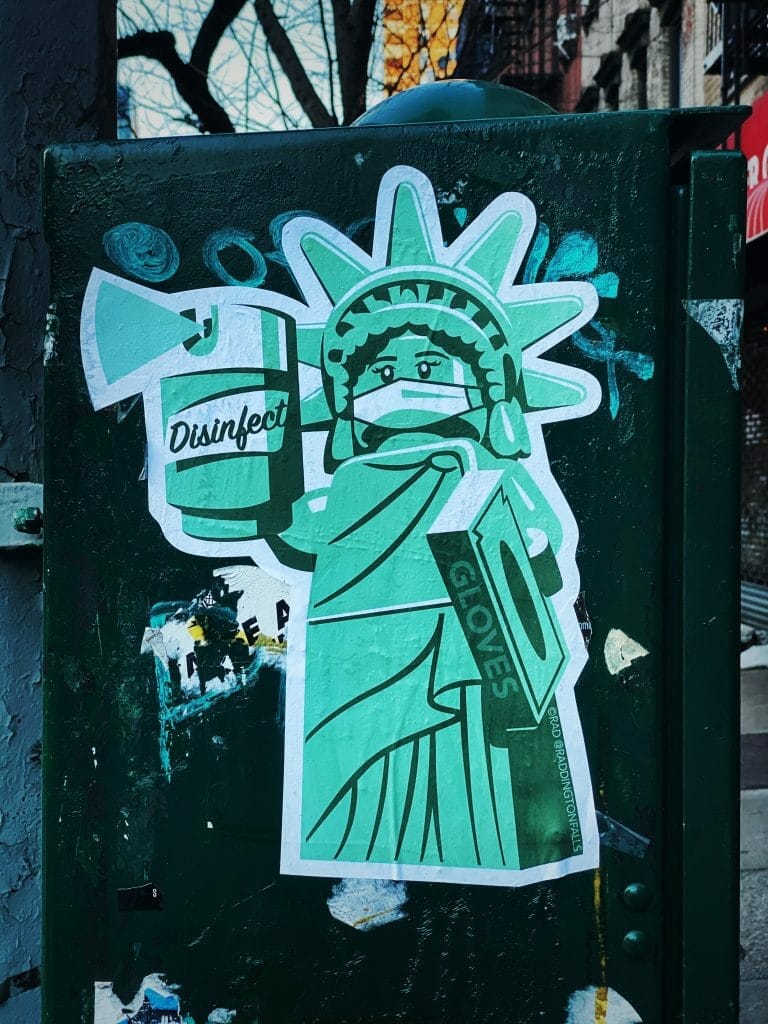 Fear of unfamiliar people can stem from fear of contracting or spreading the virus. By witnessing the negative outcomes of COVID-19, both directly and indirectly, a person may experience extreme distress at the thought of coming in contact with others who possibly are infected.
Combined with decreased stress through limitations of public exposure and other means of physical contact, a person becomes susceptible to developing post-pandemic social anxiety.
Ethnic differences
Certain ethnic groups may be at higher risk of developing social anxiety based on statistics for the virus. Though research to understand the numbers are ongoing, initial reports published by the CDC reflect apparent disparities among black/African American and Hispanic/Latino persons. An April survey found that though African Americans represented only 18% of the observed community, they made up 33% of hospitalized patients – the greatest ratio by ethnicity.
A second study in New York found death rates by race to be skewed as well. Per a 100,000 population, rates for African American (92.3 deaths) and Latino (74.3) persons were significantly higher than White (45.2) and Asian (34.5) individuals. Thus, the over representation for these ethnic groups may further influence fear of contraction, increasing susceptibility to social anxiety. 
Social Scrutiny
Social scrutiny plays a role as well, especially for those who survived infection of the virus. Further research is needed to understand progression of the virus in humans, which may cause others to believe that a person who once had COVID-19 may continuously spread it. The fear of stigma from others and the need to mitigate it may cause those who endured the virus to develop this type of post-pandemic social anxiety.
How to help yourself or a loved one with social anxiety
Despite the hardships that arose due to the ongoing pandemic, there are certainly positive outcomes as well.
The far-reaching effects of COVID-19 are creating a sense of community in how we interact with one another, as well as with the earth itself.
Stories tell of great donations and socially-distant celebrations for graduates to decreases in pollution rates and flourishing of animal life.
These are only a few examples of good that still prevails, and so too will humanity continue to prevail together according to a new normal. 
To help adjust to the anxiety you may feel during these stressful times, here are a few tips you can try:
Set Goals.
Create goals that will combat social anxiety. Goals can be big or small, but should be attainable and specific to you. Going for a walk outside or having a conversation with someone new are a few examples. 
Keep a Journal.
Documenting your feelings and experiences can be quite valuable. You will more easily recognize thoughts and habits that may be harmful or helpful, and adjust your approach accordingly. You will be able to observe the growth you've made too! 
Practice Breathing.
Learning how to take control and calm stress responses can help reduce discomfort in social situations. Breathe deep and slow, allowing your mind to focus and your body relax. 
Take "Me" Time.
Progress is hard, and it's important that you find a healthy outlet for coping. Exercising, reading a book, spending time outside, or painting are possible habits you can practice to ease nerves. 
Join a Support Group.
Social support is a great source of encouragement and motivation. A group of others facing similar challenges highlights your experiences are not isolated, and mutual understanding will provide comfort for members. Makin Wellness provides multiple, online support groups for different types of anxiety. For more information call (833) 274-4325, email [email protected], or visit www.makinwellness.com
Reward Yourself.
The distress you feel is valid, and there are challenges you will encounter on your path to wellness. It's important to acknowledge your achievements and feel proud of the progress you make – big and small!
Seek professional therapy or counseling
Professional therapy can help with all types of anxiety, including the social kind. Through cognitive behavioral therapies, you can de-condition the root of your anxiety and find a path to a new, and less stress life. Makin Wellness offers online and in-office therapy across the state of Pennsylvania for individuals, groups, families, couples, and children. For more information on social anxiety programs call (833) 274-4325.
Asking for help to sort through the anxiety you experience is an important step to becoming well. Staying informed and open to new discussion is the key to forward movement in our communities and within ourselves. So I invite you to do just that!
And Stay Happy! You deserve it!